PowerSwap Nucleus® Lithium Power System
The PowerSwap Nucleus® Power System is designed to increase productivity in all areas of the warehouse, production floor and other industrial environments.
This rugged yet lightweight system with a 5-7 year life (3,000 charge cycles) provides quiet, permanent AC power for 8-12+ hrs. When the battery is depleted, simply replace it via "hot-swap" in seconds for 24/7 operation. The optimal solution for mobile workstations.
PowerSwap Nucleus® Lithium Power System consists of:
At least 2 batteries plus replacement (optional)
Power Docking Station with power strip
External battery charging station
Lithium Environmental and Safety Aspects
The PowerSwap Nucleus® Lithium Power System also offers significant advantages over conventional rechargeable batteries in terms of environmental aspects, as it contains no toxic heavy metals such as lead or cadmium. As a result, it makes a significant contribution to green IT efforts. Lithium iron phosphate technology is also much more stable and also safer than conventional lithium ion or lithium polymer systems, as there is no risk of ignition in the event of overheating or mechanical abuse.
Popular Applications
Manufacturing
Warehouse
Retail
Technical Specifications
Each battery:

36 Ah lithium iron phosphate, 12,8 V supports up to 460 watt hours

Voltage:

Output 230 V AC, 50 Hz, pure sinus, max. 240 W

Typical hardware & run time:

Laptop, industrial printer & scanner for 8-12+ hours

Charging time:

approx. 4 - 8 hours

Housing:

Green protective plastic housing

Battery dimensions (cm):

16 B x 33 D x 16 H

Battery Weight:

approx. 5 kgs
Your Profits:
Instead of going back and forth from a desktop computer to printers and other devices, all the necessary equipment can be brought to the location where the work takes place.
Measurable profits include:
€ 7,500 + reduction in labor costs per user
Significant improvement in inventory accuracy
Reduction in labeling errors by 90%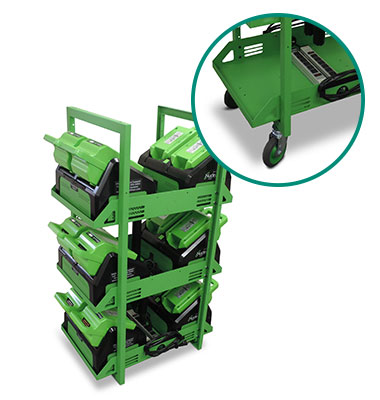 Keep your batteries topped off and tidy with specially-made charging rack
Key Benefits
Eliminate the need to plug multiple cords into wall/floor outlets
Clean, integrated cable management throughout rack
Compact footprint saves valuable floor space
Mobility caster kit enables rack to be easily moved to ideal charging location
Data Sheet NUCR Charging Rack (.pdf)
Consultation and Service
As a renowned system and development company, we develop cost-effective total solutions for you according to your individual needs - from advice and configuration to complete equipment with all the necessary components.
We are official Newcastle Systems Europe Distributor and Reseller