Advice on the optimal technology, frequency selection and safety
Wireless coverage with professional technology by Ekahau
Delivery, installation and commissioning of the components
Configuration and administrator briefing
Maintenance and repair service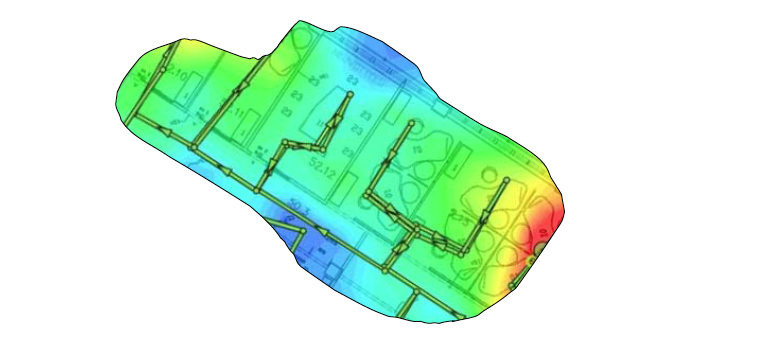 The wireless coverage is fundamental to the WiFi configuration according to the customer's specific requirements. We measure with professional technology from Ekahau and Ruckus Wireless. Following our measurement, you will receive detailed documentation in which the expected wireless coverage is also shown graphically with so-called heat maps. For the documentation, we require plans that are as true to scale as possible.
LaubnerCare Survey
WiFi infrastructure for any company size
No mobile computer - whether handheld or mounted in a vehicle - can do without WiFi if effective real-time communication is required. For communication in production, warehouses, offices or salesrooms, setting up a WiFi infrastructure is indispensable. Working together with you, we will take the necessary steps.
Consult us right at the beginning of your project planning and let us develop a network plan for you. We will also be pleased to take care of the site survey.
LaubnerCare WiFi Site Survey
We check your existent WiFi infrastructure
You already have an existing WiFi infrastructure and would like to know if everything is working properly? Perhaps you are already having problems with the WiFi? Then our Site Survey service is just right for you.
LaubnerCare WiFi Service
Ongoing maintenance
Regular maintenance and updates are also required after the initial installation. We take care that everything always works smoothly for you.
How to: WiFi Wireless Coverage
A wireless LAN infrastructure is highly dependent on how well the access points and their antennas are placed and how the configuration has been carried out. We have the expertise to do all of this. Through training and practical experience from numerous projects, we can help you to optimally set up your wireless network within the framework of a professional wireless measurement.
Many users experience the problems caused by an unprofessionally set up wireless network, which are difficult to fix afterwards. The problem analysis is often very time-consuming and expensive.
Reliability and comprehensive coverage are essential for an optimally running IT infrastructure of any company.