Mobile Workstations featuring Unique Swappable Battery System
The latest generation of mobile workstations, equipped with the PowerSwap Nucleus® Lithium Power System by Newcastle Systems.
Converting a stationary workstation into a mobile workstation is the easiest and most economical way to boost your employees' productivity and get the most out of your infrastructure. Mobile workstations and portable power systems enable you to set up your workstations wherever they are needed.
Mobile Workstations of the Latest Generation
All mobile workstations with integrated power supply are designed to carry and power tablets, printers, scanners, mobile data acquisition devices, scales and other electronic devices for 8 - 12 hours or for 24/7 operation.
Key Benefits
By switching to mobile workstations, the same work processes can be carried out with fewer devices (e.g. printers, computers, etc.). Mobile workstations simplify everyday work enormously and increase efficiency as well as flexibility in the company.
No additional investments
PowerSwap Nucleus® Lithium Power System
Newcastle Systems' PowerSwap Nucleus® Lithium Power System is a world first in the battery market that optimizes the power supply of mobile workstations and maximizes workstation flexibility.
PowerSwap Nucleus® boosts productivity by powering devices such as laptops, tablets, printers and scanners for more than 8 hours. When the battery runs low, it can be replaced with a fully charged one within just a few seconds, which makes 24/7 operation possible. No tools or heavy lifting required.
VIEW PRODUCT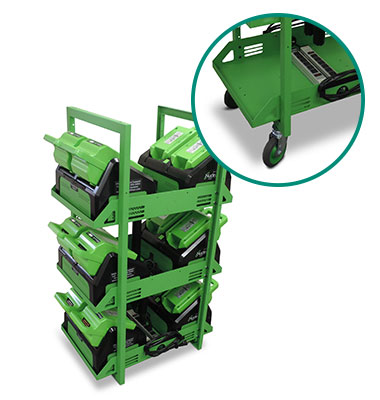 NUCR Multi-Bay Charging Rack
Key benefits
Eliminate the need to plug multiple cords into wall/floor outlets
Clean, integrated cable management throughout rack
Compact footprint saves valuable floor space
Optional mobility caster kit enables rack to be easily moved to ideal charging location
Data Sheet NUCR Charging Rack