Printing Materials & Consumables
Andreas Laubner GmbH offers not only printer systems or software, but also the " fuel for the car ", i.e. the associated consumables such as labels, ribbons, toner, cartridges, RFID transponders, and much more.
But why should you purchase the consumables from us? Because there are many factors that play a role in the selection of suitable equipment, and we can draw on many years of experience and excellent relationships with manufacturers, from which you will benefit!
We are familiar with the technology, the software and the materials and know which solution is the best and most efficient. After all, only perfectly coordinated systems and products ensure smooth operation and compliance with specifications. We have ribbons, labels and toners for every application, every substrate and for all materials and sizes.
Labels, Tags, Plastic Cards
We supply the labels, cards and ribbons that are best suited to your printer and application.
Only perfectly matched systems and products ensure smooth operation and compliance with specifications. We offer labels for every application, every substrate and for all materials and sizes - including yours.
Thermotransfer-Farbbänder
Wachsbänder sind die preisgünstigste Qualitätsgruppe und speziell für die Applikation bei niedriger Druckenergie ausgelegt. Sie kommen vor allem bei Papieretiketten zum Einsatz, wo sie selbst auf rauen Oberflächen für überzeugende Druckergebnisse sorgen.
Wachs/Harz Premiumbänder - Wachs/Harz Mischbänder besitzen eine Formulierung auf Wachs-Harz-Basis und werden bei mittlerer Druckenergie appliziert. Sie garantieren randscharfen und detaillierten Druck auf glatten Papieroberflächen und eignen sich auch für Etiketten aus Kunststoff. Ihre Wisch- und Kratzbeständigkeit liegt deutlich über der von Wachsbändern.
Harzbänder werden unter hoher Druckenergie übertragen. Sie sind besonders wischbeständig, äußerst kratzfest und resistent gegen Benzin, Alkohol und teilweise gegen Lösungsmittel. Auf glatten Kunststoff-Oberflächen liefern sie randscharfe Druckresultate mit extremer Deckkraft und Haltbarkeit.
Überzeugen Sie sich selbst davon, welche vielfältigen Möglichkeiten die unterschiedlichen Farbband-Qualitäten bieten.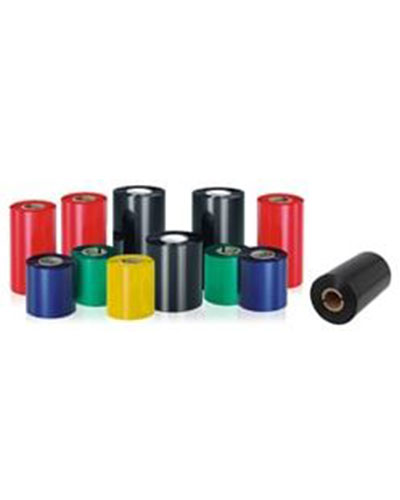 Typenschilder

Für viele Waren gibt es gesetzliche Vorschriften zum verpflichtenden Inhalt und zum Aussehen von Typenschildern. In der Regel finden sich auf dem Typenschild der Hersteller, der Bautyp bzw. die Ausführung, die wichtigsten Leistungsdaten und das Baujahr, in vielen Fällen auch eine Seriennummer oder eine Bestellnummer, in manchen Fällen sogar eine Person, die das Objekt hauptverantwortlich fertigte oder es endprüfte. Die Daten eines Typenschildes sind teils vorgedruckt für die festen Daten, z.B. für die Einheiten und Bezeichnungen der Angaben. Die variablen Angaben können mit unseren Thermotransferdruckern und speziellen Farbbändern aufgedruckt werden.
Die Anforderungen an Typenschilder sind meist sehr hoch. Über Jahrzehnte sollen bei jeder Witterung und vielen chemischen und physikalischen Einwirkungen die Typenschilder dauerhaft lesbar sein. Das schafft man nur mit optimal auf das Werkstück abgestimmten Etikettenmaterialien.
Lagerplatzkennzeichnung und andere Sonderdrucke
Mit einem strukturierten und durchdachten Lagerplatzkennzeichnungssystem behalten Sie in Ihrem Lager den Überblick. Ist das Ordnungssystem gut sichtbar und bedarfsgerecht gestaltet, bietet dies zahlreiche Vorteile, unter anderem vereinfachte und beschleunigte Logistikprozesse, Verringerung von Suchzeiten und sowohl schnelle als auch sichere Um- und Auslagerung sowie Unterbringung der Waren.
Durch sichtbare Lagerplatzkennzeichnung und einen strukturierten Lageraufbau erzielen Sie eine deutliche Effizienzsteigerung bezüglich Zeit und Kosten.
Wir unterstützen und beraten Sie auf dem Weg zu einem Ordnungssystem im Lager - mit verschiedenen Lagerplatzkennzeichnungen. Zu unserem Portfolio gehören unter anderem:
Markierung durch Schilder von Gängen, Regalen und Arealen
Bodenmarkierungen
Plakatständer
Sicherheitskennzeichnungen