Printing Materials & Consumables
Andreas Laubner GmbH offers not only printer systems or software, but also the " fuel for the car ", i.e. the associated consumables such as labels, ribbons, toner, cartridges, RFID transponders, and much more.
But why should you purchase the consumables from us? Because there are many factors that play a role in the selection of suitable equipment, and we can draw on many years of experience and excellent relationships with manufacturers, from which you will benefit!
We are familiar with the technology, the software and the materials and know which solution is the best and most efficient. After all, only perfectly coordinated systems and products ensure smooth operation and compliance with specifications. We have ribbons, labels and toners for every application, every substrate and for all materials and sizes.
Labels, Tags, Plastic Cards
We supply the labels, cards and ribbons that are best suited to your printer and application.
Only perfectly matched systems and products ensure smooth operation and compliance with specifications. We offer labels for every application, every substrate and for all materials and sizes - including yours.
Thermal Transfer Ribbons
Wax ribbons are the lowest cost quality group. They are specially designed for application at low printing energy. They are mainly used for paper labels, where they provide convincing printing results even on rough surfaces.
Wax-/resin ribbons consist of a wax/resin base and are applied at medium printing energy. They guarantee sharp-edged and detailed printing on smooth paper surfaces and are also suitable for plastic labels. Their smudge and scratch resistance is significantly higher than that of wax ribbons.
Resin ribbons are transferred under high printing energy. They are particularly smudge-resistant, extremely scratch-resistant and resistant to gasoline, alcohol and to some extent solvents. On smooth plastic surfaces, they deliver sharp-edged print results with extreme opacity and durability.
See for yourself the wide range of possibilities offered by the different ribbon qualities.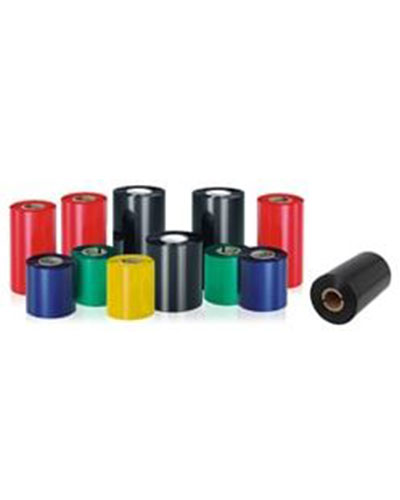 Nameplates

According to the law, many goods must be provided with nameplates, the content of which is precisely specified. As a rule, the nameplate contains the manufacturer's name, the type of construction or design, the most important performance data and the year of manufacture, in many cases also a serial number or an order number, in some cases even information on the person who was primarily responsible for the manufacture of the object or for its final inspection. The data of a nameplate are partially pre-printed. The variable data can be printed with our thermal transfer printers and special ink ribbons.
The requirements for nameplates are usually very high. They must remain legible for decades in all weathers and under many chemical and physical influences. This can only be achieved with label materials that are optimally matched to the workpiece.
Storage Location Marking Systems and Other Special Prints
With a structured and well thought-out storage location marking system, you can maintain an overview in your warehouse. If the order system is clearly visible and designed according to requirements, this offers numerous advantages, including simplified and accelerated logistics processes, reduction of search times and both fast and safe transfer and retrieval as well as storage of goods.
Visible storage location marking and a structured warehouse layout enable you to achieve a significant increase in efficiency in terms of time and costs.
We support and advise you on the way to a system of order in the warehouse - with various types of storage location marking. Our portfolio includes among others:
Sign marking of aisles, shelves and areas
Floor markings
Safety signs
If you would like to benefit additionally from our know-how, want to know more about PayPerPage or are looking for labels with individual imprint, please have a look at our service LaubnerCare Print&Supplies.
Display Protection
Protect your screens from glare, scratches and damage.
Minimizes reflections, so that reading from the display is fatigue-free
Easy to apply and removable without leaving any residue
Very durable and robust
Extremely high transparency
Screen Protection available for:
TFT, LED and LCD Displays
Industrial Panels and Monitors
Vehicle Mounted Terminals
StopTrack
Antitheft marking in the form of a permanent label for installation on your electronic equipment such as laptop, desktop computer, tablet, smartphone...
The StopTrack label identifies equipment as stolen. Therefore, it becomes impossible to be sold.
The owner is easily identified - all over the world.