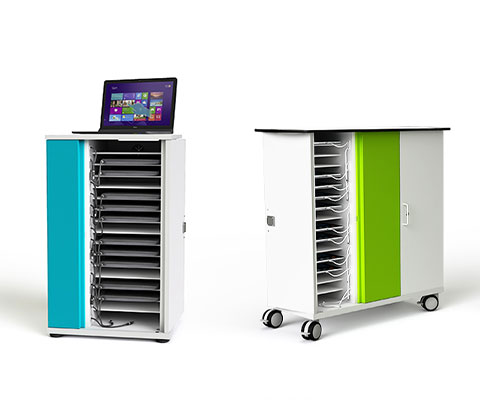 Zioxi
Smart furniture for agile spaces.
The smart furniture products from zioxi are designed to meet the ever changing needs of technology. The innovative, leading edge designs provide solutions for charging, integrating, securing and controlling IT and AV technology within charging trolleys, lockers, desks and tables. Solutions that enable the latest workplaces and learning spaces to perform to their maximum, always ready, always technology enabled.
Trolleys, Cabinets and Charging Lockers
Your devices are safely stored and charged with zioxis elegant and very robust Volt Charging Lockers, so they are ready for use the next morning. Solutions for secure storage, syncing and charging for tablets, laptops, phones and other mobile devices.
Laptop USB C Charging Station
The zioxi Laptop USB C Charging Station provides charging and secure storage for 16 or 32 laptops. Laptops are stored horizontally as they should be and only a short length of USB C power lead is supplied and presented to each shelf.
The zioxi Laptop USB-C charging station has lockable doors (with RFID card, code or key lock options) which fold back 270 degrees for easy and safe access. Suitable for charging and secure storage of full sized laptops – please see specifications for maximum dimensions.
USB-C Tablet Charging Cart
The zioxi USB-C Tablet Charging Carts provide the ability to charge 16, 20, 32 or 40 iPads and USB tablets via integrated USB type C ports – with only short lengths of USB cables presented and retained at the front of each shelf and all in an easy to use, very compact and unobtrusive unit. No need for Apple, Samsung or other manufacturer supplied chargers.
Volt Laptop Charging Locker – BYOD Tower
Create banks of mobile device charging lockers with these 16 bay floor standing locker units, designed to charge laptops, Chromebooks and tablets. The charging lockers are opened with a choice of digital code or RFID access card (or just a key) giving the option to dedicate lockers to individuals or enable multi user operation – like a hotel safe.
The Volt BYOD laptop charging lockers have mains power sockets in each locker compartment so users can bring and plug in their own chargers and cables. And there's the option to add USB-C, USB-A and Ethernet cables into each bay to provide total mobile device flexibility for BYOD locker users.
Charging Lockers : onView Details
Volt Charging Lockers fitted with zioxi onView provide automatic, web & local control of your smart lockers by mobile app and the web portal. User access by RFID card or Pin number. Locker management can be performed on charging lockers individually, in groups, by room, by floor, by building or even across the whole organisation. Great for saving management time, reducing carbon emissions, improving the user experience and keeping control of your mobile devices remotely.
Control your charging trolleys & cabinets over the web with zioxi onView
Save money & prolong battery lives by automatically turning off charging as soon as devices are fully charged.
Improve security by alerting when trolleys and cabinets aren't locked at the end of the day.
Reduce CO2 emissions by automatically charging at the greenest times.
Enhance learning outcomes by ensuring devices are returned and charging each night.
Reduce staff time by automating tasks and providing alerts only when intervention is required.